Description
FlashForge Creator Pro X AXIS Bearing Pulley LEFT Side Gantry
The X Y Pulleys can wear, become wobbly or unstable.
This is the X axis bearing for the Flashforge Creator Pro, Dreamer, and Inventor series of 3D printers and fits only those Printers.
This pricing is for ONE SET only.
Here is a 3rd Party Video Tutorial on fitment:
Click this link for the exact video position for the X Axis Bearing fitting on the FlashForge Creator Pro FFCP
Please note: 2020-07-24:15:00
This item comes as 6 [six] separate pieces for you to assemble [see photo's], as many people require to replace only a part, or all, of this assembly.
These are the 6 pieces: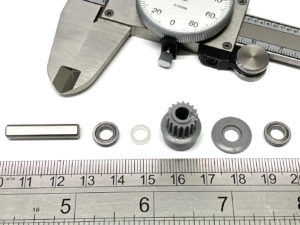 This is the Order of assembly:
— onto the AXLE fit: BEARING, Nylon WASHER, PULLEY, PULLEY END FLANGE, BEARING.
– ensure that the bearing are facing outwards.